Managers and supervisors join Council 2
June 3, 2010
WHEN 140 MANAGERS and supervisors at Seattle City Light heard earlier this year that their jobs were targeted for cuts by Seattle Mayor Mike McGinn, they turned to Council 2 for help.

"They were concerned about having a voice so they could provide input into their conditions of employment," says Council 2 Director of Organizing Bill Keenan.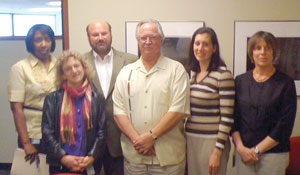 Posing for a picture after the signing of a voluntary recognition for employees at Seattle City Light are, from left: Seattle City Light Human Resources Director Davonna Johnson; City of Seattle Labor Negotiator Julie McCarty; City of Seattle Labor Relations Director David Bracilano; Council 2 Research Director Bill Dennis; and Seattle City Light Strategic Advisers Jennifer Greenlee and Sandi Fukumoto.
"They realized they needed to consider organizing and appointing representatives so they would have a united voice with which they could negotiate issues such as furloughs and layoffs."

The employees filed with the state Public Employees Relations Commission, or perc, to organize under Council 2. Approval was given.

The employees signed authorization cards indicating their voluntary approval to be represented by Council 2. The support was stronger than the 65 percent that the city has ruled are needed in order for recognition as a bargaining unit.

The employees involved are supervisors, managers and strategic advisers.

Agreement was reached in mid-May to establish multiple units, with managers in one, supervisors in the other and strategic advisers in the third.
Those units will be distinct from the present unit. The units will bargain for a master agreement which will be tailored to the needs of each individual unit.

"This is our first large unit of managerial and supervisory employees in Seattle City Light," says Keenan. "With the exception of the existing group whom we already represent, all the others are represented by the International Brotherhood of Electrical Workers.

"It is also the first unit consisting of this high a level of management."
Back