Apply for Union Plus Scholarship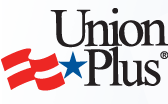 The 2018 Application is now available! Deadline to apply is 9am Pacific on January 31, 2018.
Scholarship Award Amounts:
Amounts range from $500 to $4,000. These one-time cash awards are for study beginning in the Fall each year. Students may re-apply each year.
Click here
to visit the Union Plus Scholarship page.