Apply for Union Plus Scholarship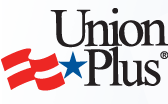 Deadline has passed for 2017 submissions. The 2018 Application will be available starting in June 2017.
Scholarship Award Amounts:
Amounts range from $500 to $4,000. These one-time cash awards are for study beginning in the Fall each year. Students may re-apply each year.
Click here
to visit the Union Plus Scholarship page.